Happy Manhole Monday!
Jun 30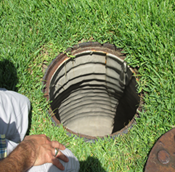 Chicago, hope you had a great weekend! There was lots going on in the city as well as underneath it! Chicago's manholes are made of brick that are corroded and in some cases are uneven. An uneven manhole can attribute to accidents that lead to pricey repair bills, injuries and in some cases death. Corroded manholes pose a threat to our men and women that work down in the sewers. There is a cost effective, fast and easy solution to this. Perma-Liner can come out and line the manhole to restore it to brand new. We do not use cementitous sprays, we offer a structural solution to the problem not a temporary band aid.
Our one of a kind liner is sized to give a structural cured-in-place seal to all manholes, whether they are barrel sections, eccentric and concentric cones, brick mortar, pre-cast and block. The vacuumed powered resin filled liner is then manually inverted into the manhole using a device to press the liner against the existing manhole wall. Cure times are within one to two hours. The result is a smooth brand new interior surface. Chicago, give Perma-Liner a call for more information or a live demonstration at 866-336-2568.